Swarming Lounge
site specific mixed-reality installation-performance
2018
Site specific mixed-reality installation-performance where visitors interact with virtual characters via their smart phones. A reflection on our addictive relationship with virtual worlds and screens.
Swarming Lounge is a mixed-reality installation in which visitors and performers interact with virtual characters displayed on their smartphones. In an intertwining of real and virtual situations, visitors encounter multiple micro-narratives and experience shifting degrees of presence. Combining traces of daily gestures and fragments of intimacy, a parallel world of humanoid algorithmic entities merges with the observing public.
What fashions the presence of the virtual characters? What makes them endearing to us? What becomes of our own presence, constantly extended by the surveillance devices that we are using? Swarming Lounge deals with the multi-layered affective and autopoïetic links, engendered by the stratification of the states of presence of mixed realities and questions our addictive relationship with the miniaturized worlds of screens. In this journey, the persistence of virtual presences haunts us, like an unsolvable enigma.
Swarming Lounge at Robot Love exhibition, Campina Milk Factory, Eindhoven, NL, 2018
Swarming Lounge at Robot Love exhibition, Campina Milk Factory, Eindhoven, NL, 2018
Swarming Lounge at Robot Love exhibition, Campina Milk Factory, Eindhoven, NL, 2018
Swarming Lounge at Robot Love exhibition, Campina Milk Factory, Eindhoven, NL, 2018
Swarming Tunnel at Animafest, Grič Tunnel, Zagreb, HR, 2019
Swarming Gallery at #fuckreality exhibition, Kunstraum Niederoesterreich, Vienna Art Week 2018, Vienna, AT, 2018 / © eSeL
Swarming Gallery at #fuckreality exhibition, Kunstraum Niederoesterreich, Vienna Art Week 2018, Vienna, AT, 2018
Swarming Gallery at #fuckreality exhibition, Kunstraum Niederoesterreich, Vienna Art Week 2018, Vienna, AT, 2018
Swarming Gallery at #fuckreality exhibition, Kunstraum Niederoesterreich, Vienna Art Week 2018, Vienna, AT, 2018
Swarming Lounge at Robot Love exhibition, Campina Milk Factory, Eindhoven, NL, 2018
Swarming Tunnel at Animafest, Grič Tunnel, Zagreb, HR, 2019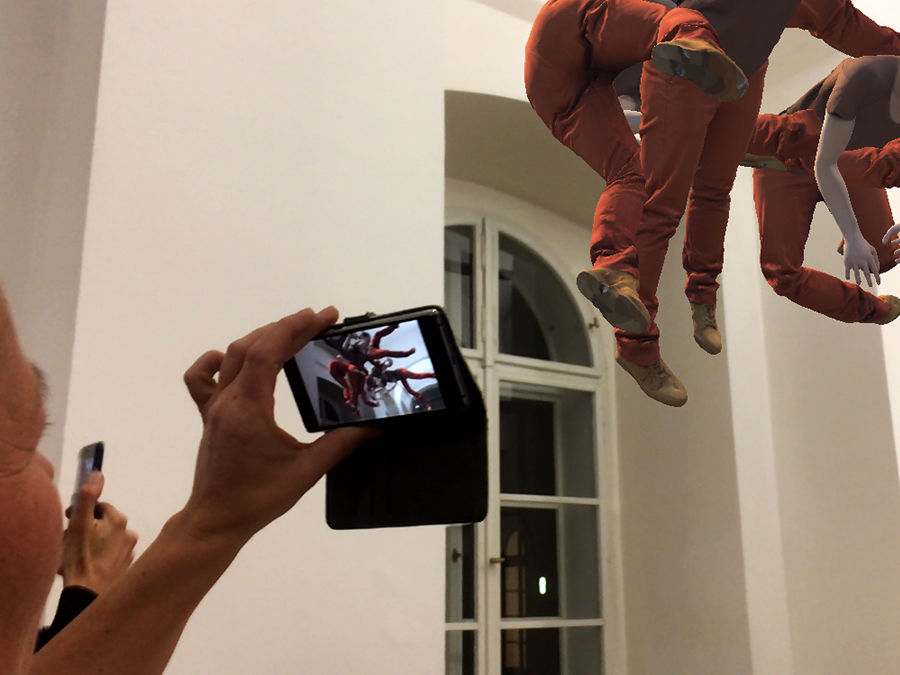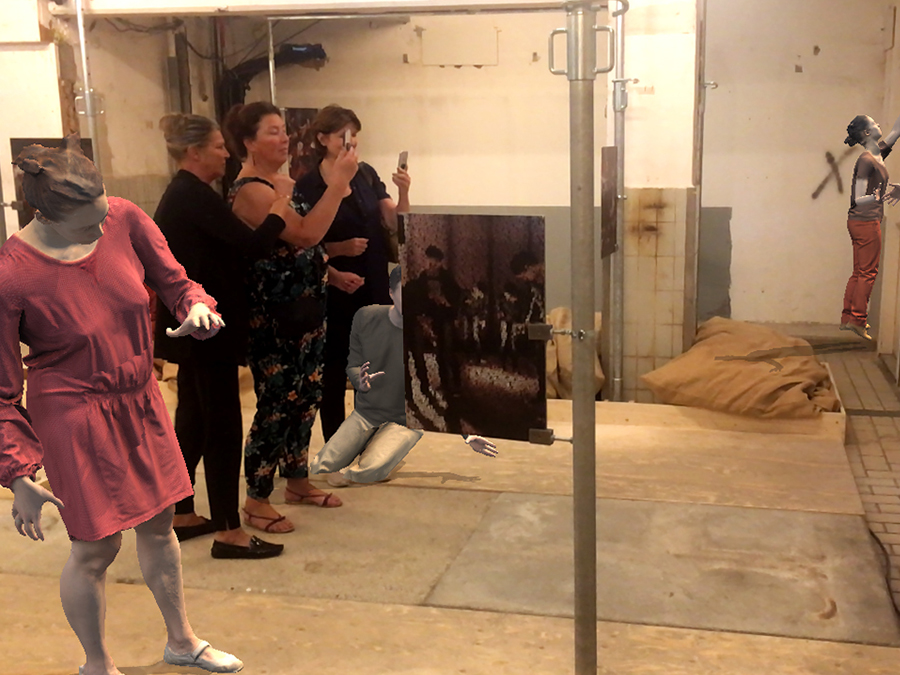 Credits
Concept and direction: Martin Kusch and Marie-Claude Poulin
Choreography: Marie-Claude Poulin,
assistance Audrey Rochette
Media environment: Martin Kusch, Johannes Hucek
Sound environment: Alexandre St-Onge
Installation: Martin Kusch
Installation design: Institute for cultural policy
Programming and stage management Johannes Hucek
3D modeling animation: Georg Schmidhuber
Dancer/performers: Audrey Rochette and David Campbell
New team members (2022):
Dancer/performers: David Campbell, Kim-Sanh Châu, Emmanuel Jouthe, Nasim Lootij
3D models: Franz Schubert
Commission and co-production:
Niet Normaal Foundation, The Netherlands
With the support of:
Conseil des arts et des lettres du Québec,
Canada Council for the Arts
Exhibitions / Shows
2022 CIVA festival, Belvedere 21, Vienna / AT
2021 In the Kitchen exhibition / Vienna Art Week, Medienwerkstatt, Vienna / AT
2021 Criatech, Estação Comboios de Aveiro, Aveiro / PT
2019 Animafest, Grič Tunnel, Zagreb / HR
2019 iX Symposium, Society for Arts and Technology, Montreal / CA
2018 #fuckreality exhibition, Kunstraum Niederoesterreich, Vienna / AT
2018 Robot Love exhibition, Campina Milk Factory, Eidhoven / NL